Around 8 billion people populate the planet today. When it comes to forming relationships, doing business, or even asking for a favor, we all have to do our due diligence in deciding who we can trust. Not everyone has our best interests at heart, so we all naturally look for signs that indicate a person—or brand—might be trustworthy. From body language to the opinions of people who know them well, we gather evidence from various sources to make our decisions. When it comes to deciding whether to trust one of the 26+ million ecommerce stores out there enough to buy from them, consumers go through a similar process.

Just as we all look for red and green flags in new relationships of any kind, consumers are on the lookout for signs of trustworthiness when exploring a new online store. The reason, of course, is that every shopper wants to make sure their hard-earned money is well-spent and that they'll receive what they paid for. That means if you, as a business owner, can showcase signs of credibility on your site at a glance, shoppers are more likely to feel comfortable and confident in buying from you.

The question is, how do you build trust with customers through your store's website? A clean, professional design, easy navigation, a secure site with encryption and SSL, and positive reviews from past customers are a few ways. However, another highly impactful yet simple method is often overlooked by ecommerce merchants: the ecommerce trust badge or trustmark. Displaying a recognizable and well-respected ecommerce trust badge like the Norton Shopping Guarantee on your store's website is easy to do—a site administrator can add the code in less than 30 minutes. And adding it can improve consumer trust and increase ecommerce conversion rates.

Let's take a quick peek at why trustmarks are so effective.
Why trustmarks are so powerful for ecommerce brands
A trust badge is a logo displayed on some ecommerce websites. It signifies that the store is backed by an independent body that offers customers certain protections on their purchases. What effect does this simple touch have on shoppers? If it's a well-reputed, recognizable trustmark like the Norton Shopping Guarantee, seeing it can immediately put an online shopper at ease. It lets prospective customers know that the business they're about to buy from has been vetted by an authoritative third party, so they can trust that the following is true:
Their information is safe. Customers have to enter sensitive personal information like their home address and credit card details to buy anything online. If the site isn't stable and secure, a shopper's information can be at risk. This can lead to lost money, identity theft, and an all-around hassle. A credible trustmark shows consumers that their information will be safe and protected by that merchant.
They'll get the product they paid for. When buying from a new business, customers are risking a scenario where they hand over their hard-earned money for a product that simply never arrives. If the online business displays a reputable trust badge, however, customers know they'll be taken care of in the event they don't get the product that was represented.

They'll get a good price. Prices drop, and customers may feel they have to play the game of waiting for the best possible price on their purchase. They risk missing the lowest price point and feeling regret at having completed the purchase at the wrong time. With a good trustmark in place, a customer knows that if the price drops within 30 days of their purchase, they'll be reimbursed the difference and won't have to play the stressful game of price watching.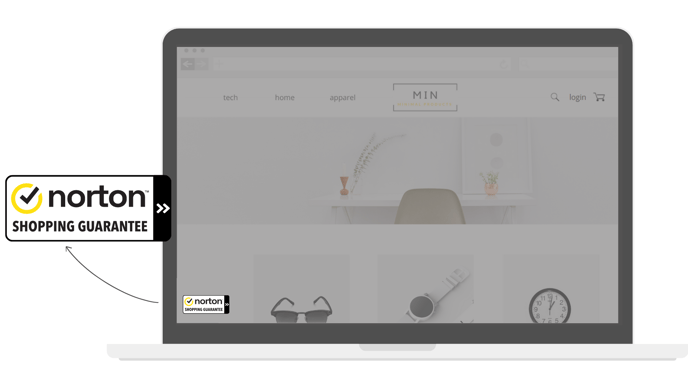 In other words, a trust badge shows shoppers that the business they're eyeing is a safe place to spend their money. That's why an increase in conversions is a typical result for merchants who add a respected trust badge to their online stores.
Types of trust badges
Trust badges communicate to your customers that your website is legit and that they can safely spend their money on your website. Let's look at a few different types of trust badges you can use.

Guaranteed safe checkout badge
This badge lets customers know that the financial and information they enter during the checkout process will be secure. When customers don't have to worry about data breaches and identity theft, they're more comfortable clicking buy.

Free shipping and returns badge
This badge has two purposes. First, it signals to the customer that the merchant will cover shipping costs. Second, it shows the customer that they can return the product if it doesn't meet their expectations. It's letting customers know the merchant is confident enough about their product that they don't expect many returns—and that reassures customers so they can shop risk free.

Accepted payments badge
Customers want to know upfront which types of payments are accepted: Visa, MasterCard, American Express, etc. With multiple payment options, the consumer has flexibility and shows the brand is well-established enough to offer multiple payment options.

Third party endorsement badge
An endorsement from a third party, such as industry awards or certificates from recognized brands, offer external credibility of the ecommerce company's trustworthiness and quality. This extra layer of trust indicates that the brand has been evaluated and approved by a neutral organization. It removes barriers to completing the purchase and increases conversion rates.

Money back guarantee badge
A money back guarantee lets customers know that the ecommerce company stands behind their products. The added confidence allows potential customers to complete their purchase with low risk, knowing that if they have an issue with the product, they can return it.
What Norton Shopping Guarantee offers your customers
Norton is a trusted name when it comes to web security, and the average consumer has this association with the logo the moment they see it. However, the Norton Shopping Guarantee doesn't just signal to shoppers that a business has been vetted. They also get three tangible protections whenever they buy from a store that has this trustmark:
$10,000 in identity theft protection. Having your identity stolen can be a costly hassle. Should this happen to a consumer who buys from a Norton Shopping Guarantee trusted website, they'll be reimbursed for up to $10,000 to cover costs like legal fees and credit-report disputes.
$1,000 purchase guarantee. Customers who never receive the item they bought might be out of luck if the site they purchased from doesn't have a trustmark. But if the shop is covered by the Norton Shopping Guarantee, they'll get reimbursed up to $1,000 in this case.
$100 lowest price guarantee. If a merchant lowers the price of an item after the customer bought it, Norton Shopping Guarantee will refund the difference up to $100. For online stores without this guarantee, customers would simply lose out on that extra money.
Do ecommerce trust badges work?
So do ecommerce trust badges work? The numbers show that they do! Let's meet three ecommerce brands that added the Norton trustmark to their sites and take a look at the results they experienced.
#1. Life Extension saw a 20x increase in ROI
Life Extension is a vitamin and supplements brand. Consumer trust is of the utmost importance to them since they provide products their customers will consume in their pursuit of a healthier body. They decided to add the Norton Shopping Guarantee to their website to see if it would help put shoppers at ease. Without coding, they were able to display the Norton Shopping Guarantee trust badge for half of all site visitors. In this A/B test, they found that visitors to the version of the site that displayed the trust badge were more likely to make a purchase.

Life Extension saw a 100% return on investment on the trust badge in a single day, as they were able to increase ecommerce conversion rates by 11.2%. Based on these numbers and the feedback they received in customer surveys, it was clear that the trust badge had a major impact on their business. "Norton Shopping Guarantee provides a sense of trust to the new products before customers are even able to write product reviews, and that helps us," says Gus Milla, ecommerce manager of life extension. As the numbers in their case study show, adding ecommerce trust badges to your website is well worth the investment.

#2. Jomashop boosted conversion rates by 12.2%
For a store that sells high-end, name-brand products, trust is paramount. Customers are wary of fakes, and they need to be sure they're getting the real thing before they buy online. That was the level of skepticism watch brand Jomashop was facing. Some of their products cost tens of thousands of dollars, and they knew they needed a way to show shoppers they could be trusted. That's where the Norton Shopping Guarantee came in.

Jomashop added the trust badge to their site by simply pasting a snippet of code, and their conversion rates went up by an impressive 12.2%, as their case study shows. "We were pleasantly surprised to see the true value of Norton, '' says Jomashop's general manager Osher Karnowsky. "We had been using other third-party guarantees, but Norton is more of a household name, synonymous with security. That makes a customer feel more secure." It's just like when a friend or family member vouches for a new person in your life; consumers know they can trust Jomashop because Jomashop is trusted by Norton.

#3. 90%+ of JBL's customers are likely to shop with them again
The JBL team knew how important trust and security were to online shoppers. That's why they made sure their site was stable, secure, and encrypted with the best technology to keep consumer information safe. But these measures weren't necessarily visible to prospective customers. That's why they also added the Norton Shopping Guarantee to their website, because they knew it was a visual symbol of trust that their shoppers would recognize.

Shoppers did recognize the trust badge, and it paid dividends for JBL almost right away. The A/B test they ran showed an increase in conversion rates of over 3%. But it wasn't just first-time buyers they were converting with the trust badge. In a survey, they also found that past customers planned to buy with them again in the future thanks to the added level of trust and security. A whopping 90.83% said they were likely to buy from JBL again. This case study is yet another example of how the simple, quick act of getting a reputable trustmark added to your site can pay off in a big way for your ecommerce brand.

If you're interested in adding the Norton Shopping Guarantee trust badge to your website to achieve results like the brands in these ecommerce success stories did,
learn more about our shopping guarantee
today. If you're ready to find out more about how our trust badge can benefit your business,
request a demo now
.